Get a Free Quote Today!
Please type your e-mail:
*
Please type your phone #:
What is your budget range:
How did you hear about us:
Please type your message:
*
Questions?
Please contact us:

US Phone #:
1-509-981-3556

MSN:
tatrasim at hotmail.com

Skype:
tatrasim

Yahoo:
tatrasim at yahoo.com

AIM:
tatrasim

ICQ:
179560595
Custom Website Development - We do it right the first time.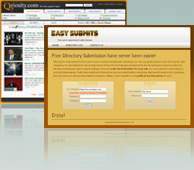 There are thousands of custom web development companies, but how do you know which one will be able to develop your project on the professional level? We fixed many websites after "professionals" with years of experience touched them. Research the companies before making any investment.
First, to see if the company can do a quality job, take a look at their website. Use
W3C Markup Validation Service
to see if their own website contains errors. This should help you eliminate over 50% of "professionals" who have simple HTML/CSS errors on their own website.
Second, see if they have a portfolio. Visit the sites that they did for other people and see if the websites that they do for clients have valid markup with no errors.
Next, get to know the company. Talk to them, ask for the code samples, do an "interview". When you would have just a few companies to choose from, compare the prices, timelines and the level of communication.
At last, do not trust any company with the big project. Try a small few hundred dollar project first. Test the waters before diving.
What makes us special?
Quality results in the specified timeframe.
Communication you deserve. We provide daily status updates.
Highly competitive prices.
Agile solutions with Search Engine Optimization in mind.
Cross-browser compatible results.
We care about your project.
Start when you are ready.
Let us know when you are ready. Fill out a form on the left, send us a brief specification and get a free quote. We guarantee the great (if not the best) price. In the next steps we would create descriptive specification, provide the timelines, divide the project into smaller phases and start coding.
We value your partnership. Let us prove it to you.